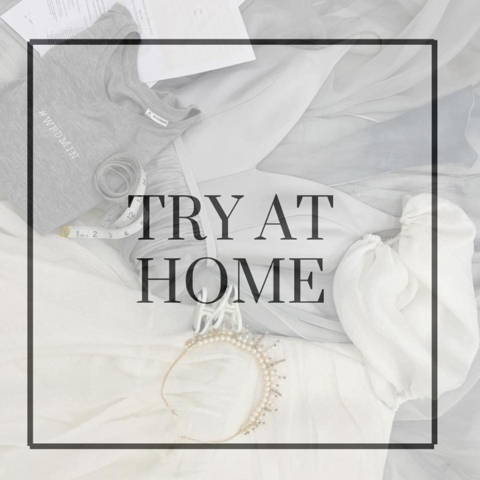 Firstly a huge congratulations on your engagement and welcome to the joys of wedding planning! We realise wedding dress shopping is less than ideal right now with lockdowns meaning you are unable to visit our beautiful boutiques so we have developed our Try At Home service to be the best possible experience it can be for brides wanting to move forward with choosing their dream dress during lockdown!
How does it work?
Essentially, our Try at Home Service is simply us sending you a choice of three dresses for you to try in the comfort of your own home then return to us when you have made your decision. We trust our brides to look after the gowns as if they were your own wedding dress - we provide you with all the information you would need to try them on at home, how to clip sample dresses to fit you better and, finally, how to measure yourself to place an order. Along with your chosen dresses, you will also receive a special gift from us, a detailed set of instructions and guidance, an order form and returns label to make everything as enjoyable and simple as possible.
How much does it cost?
Rock The Frock's Try At Home service costs £69 which includes delivery to you and back to us. You will also receive a lovely Rock The Frock gift of a card and your choice of t-shirt! If a dress should be damaged or lost while in your care, we reserve the right to charge a percent (up to 50% of the retail price of the gown) to recover associated losses to Rock The Frock. Please note: all dresses are inspected both before and after each Try At Home appointment to protect both us and you.
How do I choose?
We recognise that wedding dress choices are huge and sometimes it becomes difficult to know where to start. Our first piece of advice for anyone physically visiting our boutiques or browsing our websites is to follow your heart. Begin with dresses that stand out to you and you feel reflect your style and taste. Then consider the key elements you want for your wedding gown, such as design elements like colour, neckline, sleeves and skirt silhouette, how well the dress complements your venue, the likely weather on the day and the ability to wear suitable underwear or accessories.
PLEASE NOTE: Many of our dresses can be adapted slightly with a choice of colour or sleeve, for example, so if you LOVE a dress but are unsure about the finer details, please ask us.
FAQs
Will the dresses fit me?
As is always the case with sample wedding dresses, we only hold a style in one size at a time. Our samples range from a standard UK size 12 up to a 24. We understand that this means it can be difficult to try a gown that isn't the right size for you. However, we are full of useful tips and hints on how to try a dress that isn't the perfect fit for you and can provide clips to help with getting a great idea of how it will look when tailored to your figure. When selecting dresses, please let us know your dress size so we can advise you on how it will fit you upon arrival.
How long do I keep the dresses for?
We ask that dresses are returned within 7 days to ensure we can get them processed and cleaned ready for the next bride. We provide a returns label in your delivery box to make the return process as simple for you as possible.
How do I measure myself?
Within your box, you will find a detailed instruction sheet showing you how to measure yourself as well as a paper tape measure to use. Please follow the instructions as closely as you can and complete the order form with all required measurements. It is also VERY helpful for us to have a few photos of you in the dress to illustrate how well the sample dress fits you compared to the designer's size chart.
How do I order a dress when I've decided?
All we need from you to place an order for a dress you have tried is to complete the order form which is enclosed in your delivery box and request a deposit invoice be sent to you via email. Once a deposit is paid, your dress will be ordered with the designer! Easy!
Please select THREE dresses/top and skirt combinations you would like to try and complete the form below. We will be in touch with you directly to let you know when the dresses will be dispatched to you!